XenServer merupakan server virtualization platform dari citrix, untuk mengoptimalkan Windows dan linux virtual server, dimana semuanya memerlukan kemampuan membuat dan manage sebuah virtual infrastructure.
XenServer jalan langsung di hardware server tanpa memerlukan sistem operasi.
XenServer bekerja di element-element yang sederhana dari physical Machine (seperti hard drives, resources and ports) dan mengalokasikan ke virtual machines (VMs) yang sedang berjalan.
XenCenter bisa manage XenServer hosts, pools dan shared storage dan deploy, manage dan monitor Virtual Machines dari Windows Desktop Machine
Instalasi XenServer
1. Download XenServer disini
2. First Boot ke DVD
3. Tampilan awal instalasi – Enter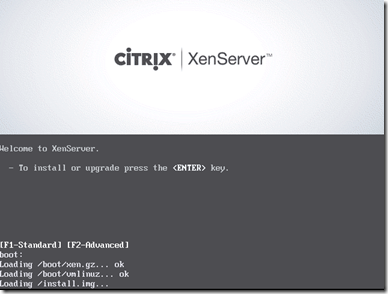 4. Pada bagian Select Keyboard Layout – Pilih OK
5. Welcome to XenServer Setup – Pilih OK
6. End User License Agreement – Pilih Accept EULA
7. Warning – Pilih OK
8. Virtual Machine Storage, Centang Primary Disk– Pilih OK

9. Select Intallation Source – Pilih OK
10. Supplemental Packs – Pilih No
11. Verify Instalation Source – (Skip Verfication) – Pilih OK
12. Set Password – Pilih OK
13. Networking – Pilih OK
14. Automatic configuration (DHCP) – Pilih OK
15. Hostname and DNS Configuration – (Manually specify) (Automatic set via DHCP) – Pilih OK

16. Select Time Zone – (Asia) – Pilih OK
17. City in Time Zone – (Jakarta) – Pilih OK
18. Using NTP – Pilih OK
19. NTP Configuration – Pilih OK
20. Confirm Installation – Pilih Install XenServer
21. Proses instalasi berlangsung…Instalation Complete – Pilih OK
Machine/PC akan restart….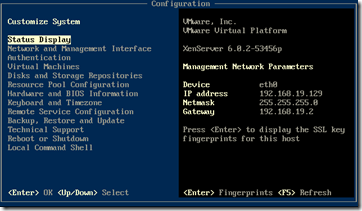 Gambar: tampilan awal XenServer
Instalasi XenClient
1. Coba perhatikan Network (IP Addres) XenServer. Disini XenServer mempunyai IP 192.168.19.129. Pastikan kamu terhubung dengan XenServer tersebut.
2. Pada Browser Mozilla Firefox, ketikkan IP Address XenServer. kemudian pilih XenCenter installer

3. Kemudian Download dan install paket XenCenter.msi
Connecting XenClient to XenServer

1. Kemudian jalan XenCenter. Konek ke XenServer. Pilih ADD a Server
2. Masukkan IP Address, username dan password XenServer. Pilih Add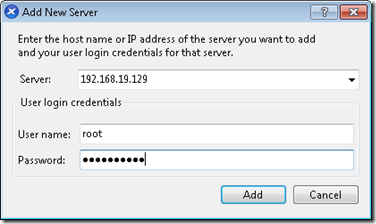 Disini kita bisa melihat informasi XenServer kita. (CPU, Memory, Network)
NB: Versi XenServer dan XenClient harus sama. Jika beda tidak dapat terhubung.
Disini saya menggunakan VmWare untuk Instalasi XenServer.
Semoga bermanfaat.