Berawal dari adanya kabar burung kalau ada proyek chat server, ane pun googling-goongling untuk cari tutorialnya. Maklum, belum pernah make chat server.. hhee.. Setelah cari sana sini, pilihan ane jatuh ke openfire. Untuk aplikasi chat server ini cukup banyak, selain openfire, ada juga jabber, phpopenchat, dan lain lain..
Ok dah, langsung aja ane sharing cara install openfire pada ubuntu 10.10
Install dulu paket pendukungnya.
sudo apt-get install sun-java6-jre
Buat database untuk openfire…
sudo mysqladmin -u root -p create openfire
Pada perintah di atas, ane membuat nama databasenya itu adalah "openfire"…
Install Openfire…
Konfigurasi openfire dengan web browser…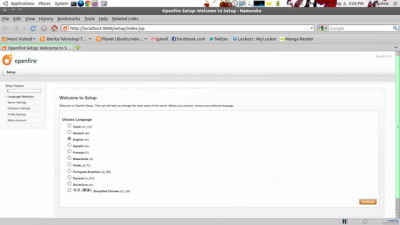 Pada alamat URLnya, silahkan ente masukin ip address dari server openfirenya. Untuk portnya sendiri, ane pake port http(9090). Kalau ente pake https, silahkan pake yang 9091.
Pilih juga bahasa yang ente inginkan. Lalu klik continue…
Pada tampilan Server Setttings, isi domain ente. Klo ente mau merubah port-port openfirenya, silahkan isi juga. Jika telah selesai, klik continue…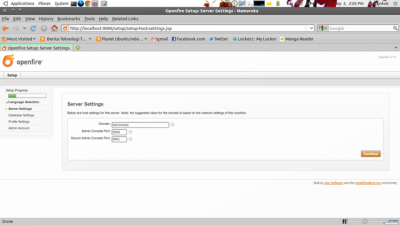 Pada Database Settings, berhubung ane menggunakan MySql, ane memilih opsi pertama Standard Database Connection…lalu klik continue…
Pada tampilan Database Settings – Standard Connection, isi sesuai paramater-parameter ente.. lalu klik continue…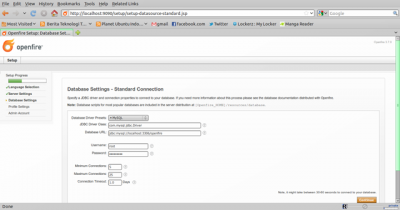 Pada tampilan Profile Settings, pilih default. Lalu continue…
Pada tampilan Administration Account, silahkan isi sesuai parameter anda.. Lalu klik continue..
Setup Complete…. Silahkan klik Login to the admin console untuk masuk ke admin console..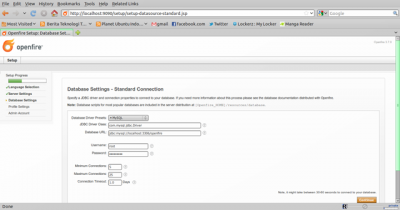 Silahkan login kembali…
Selesai sudah konfigurasi awal openfire…
Banyak yang kurang paham??? Hmm.. silahkan bertanya… hehehe…
Catatan: Jika komunikasi chatnya tidak berjalan,, silahkan lihat konfigurasi firewall anda..
Sekian dulu.. Ntar kita lanjut lagi..
Referensi :
http://www.igniterealtime.org/projects/openfire/documentation.jsp
http://library.linode.com/communications/xmpp/openfire/ubuntu-10.04-lucid